The Making of An Author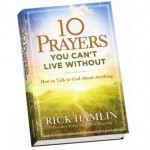 An excerpt from 10 Prayers You Can't Live Without
To try to pray is to pray.
You can't fail at it.  Nobody can.  Open your heart, open your mouth, say something, say nothing.  Shout if you must.  Raise your hands, clasp them in your lap.  Sing if you please.  You can start with a "Dear Lord" and end with an "Amen" or you can dive right in.  You can close your eyes, get on your knees, you can use whatever language you like or no language at all.  You can pray when you're walking, running, driving to work, setting the table for dinner, lying in bed before you turn the light out.
To try it is to do it.  It's the only human endeavor I can think of where trying is doing.  Reaching out is holding on.  Joining in is letting go.  Prayer is as natural as breathing.  It's fun.  It's a relief.  It's comforting.  It's a solace.  You can tell yourself it's an obligation or that it's a terrific waste of time, but how often do you get to waste time with a purpose?  If you're like me and think every minute of your day has to be accounted for, you really do need prayer.  You'll run out of steam without it.
You can do it in private.  You can do it with a friend at your kitchen table or in a church pew or with your family at dinner.  You can do it in a windowless basement with a twelve-step group or out under the stars on a summer night.  You can practice it all you like, but the practice itself is perfect.  No need for a dress rehearsal.  All your false attempts, your back-up-and-try-again efforts, they're it.
You will wonder if you're doing it right. You will want a little more guidance.  You'll want to hear from others who take it seriously and learn from their example.  Even the finest cooks look for inspiration in a new cookbook.  But the master will affirm that prayer is a school for amateurs because doing it from the heart is all that matters.  That's the only expertise you need.